Design of the wine list pages and the bespoke handmade board to which the pages were bolted.

From 2009
"It's difficult to believe that we have been working with Jeff since 2003. That's a lot of water under ANY bridge. And no regrets. As an 'exacting' client, I don't really think I need say much more. But I will. As someone who's worked professionally in the design, marketing and advertising business, I well recognise that Jeff's significant contribution to the Mud Dock story would have been curtailed long ago if at any point his submissions failed to deliver. They simply don't."
Jerry Arron, Owner and co-founder, Mud Dock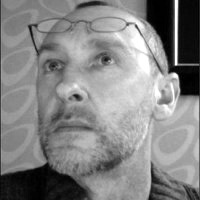 Handmade and hand-sprayed
The brief for this new version of the wine list was to reflect the low-tech industial feel of Mud Dock's café. In response, I created an idea for a wooden board to which the pages of the wine list could be bolted using nickel interscrews. The boards themselves were a bespoke shape and size, made for me by my father, an accomplished carpenter.
I then sprayed the boards black myself. On the back, I used a grafitti-style stencil of Mud Dock's iconic café chair. This gave the boards a suitably urban-Bristolian feel – albeit at the risk of making them prized keepsakes for unscrupulous customers!
If you could do with a little Objective Ingenuity, let's talk.